Do you know what it will take to accomplish the mission of Jiu-Jitsu for Everyone? Do you know what steps are needed to make that happen? We would make the argument that it is about making Jiu-Jitsu more accessible, inclusive, and flexible in its class offerings that will offer the largest impact on whether or not an individual will begin their Jiu-Jitsu journey.
Part of our purpose at Gracie Barra is to make the world a better place through the practice of Jiu-Jitsu. What better way to accomplish this goal than to make our next step of Jiu-Jitsu for Everyone be about Jiu-Jitsu for Women!


During the 2021 World Summit, Master Carlos Gracie Jr. made a statement regarding GB's Mission of Jiu-Jitsu for Everyone. He stated that it is our responsibility at Gracie Barra to "find a way to teach Jiu-Jitsu to those that need it the most." and "that it is the challenge we face to bring everyone to Jiu-Jitsu." He made it clear that his vision included many more women on the mats training alongside men, and even maybe one day surpassing the number of men who train. To make this vision a reality, we have some work to do.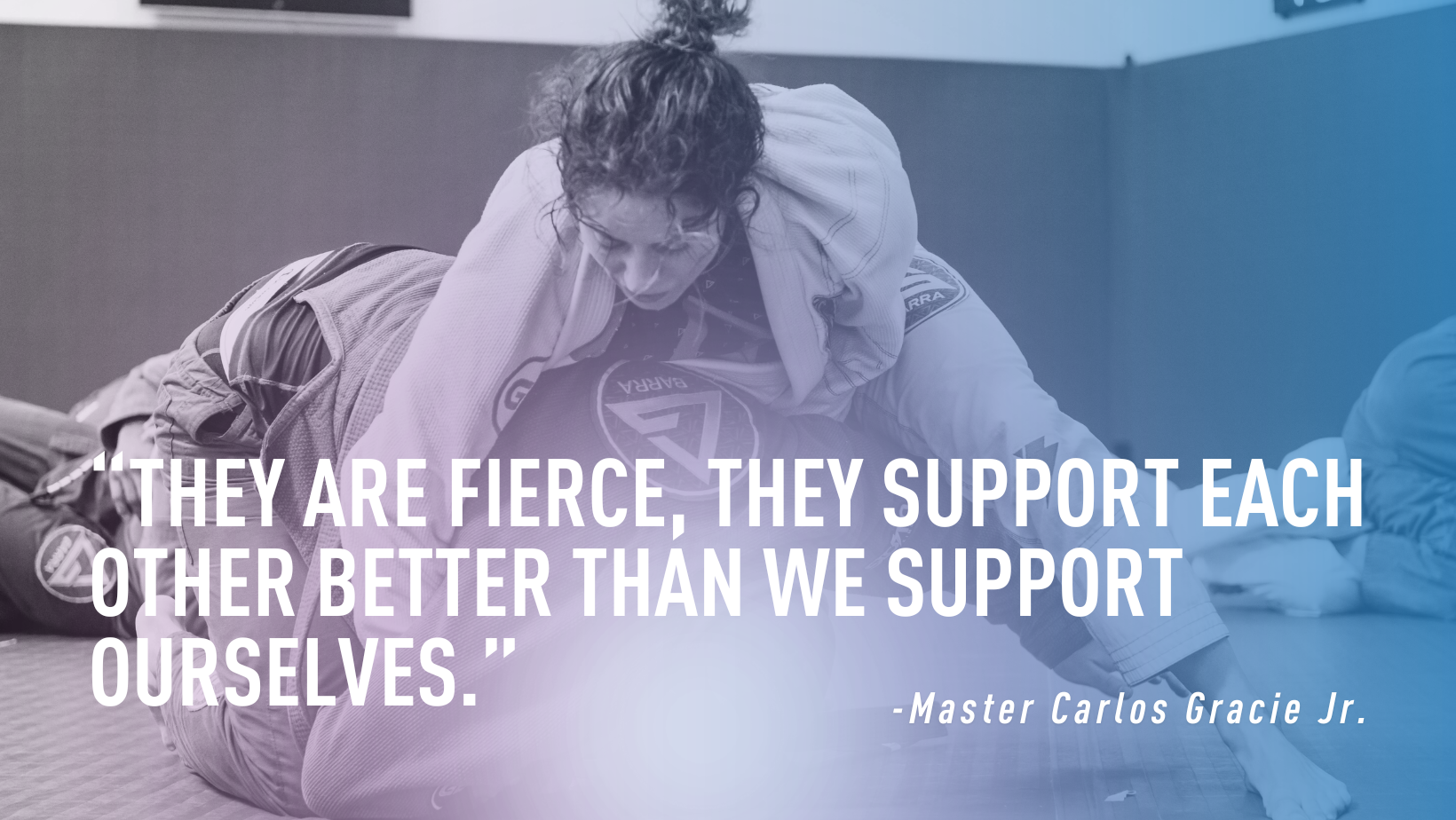 Master Carlos stated, "We must have classes for every kind of necessity, this is our goal." This opened a discussion and launched a multi-faceted research study that landed us in creating a program of Jiu-Jitsu for Women called GBF. Master Carlos stated about ladies that "they are fierce, they support each other better than we support ourselves." and "we have to prepare our tools inside Jiu-Jitsu to teach [more] ladies."


This next step comes on the heels of Gracie Barra moving along a path of making Jiu-Jitsu more inclusive for all since 2005 when the Jiu-Jitsu for Everyone mission started. GB has experienced accelerated growth for many years, growing our number of schools and number of students in each school exponentially, partly due to our continued effort to make Jiu-Jitsu more inclusive.


We have continued to develop the GB Program Structure to tailor the classes to needs of students, first and foremost focused on grouping students by their level of experience. GBF is one more step added to the ladder of student experience level. When we group students according to their learning needs, they learn more and have a more enriching experience.


GBF is an even better way to introduce women to Jiu-Jitsu, because it provides the unique opportunity to create close bonds and relationships with those they train with. Of course, this happens naturally over time, but our research shows that women value community in the Jiu-Jitsu setting very highly, therefore we want to create the setting to make it happen more readily.


We felt it was time to add a level of classes carefully designed for women beginning their journey! We believe we have done just that. We have developed a program that is designed specifically to bring women to Jiu-Jitsu. This program, complete with curriculum and empowerment messages, is meant to introduce Jiu-Jitsu, encouraging more women to start their journey while making sure more of them continue on it.


Master Carlos has stated, "where we come in is to give our students strength and belief in themselves. Our challenge to find what kind of class will satisfy all different desires and necessities for all people, that is a challenge. We are thinking about that and working for that."


This course provides invaluable information on Jiu-Jitsu for Women and provides the tools needed to implement the GBF Program. Ultimately, we serve our community. That is the mission of Gracie Barra worldwide. These classes will better serve the community.


With 1 in 4 women experiencing sexual violence over their lifetime, we must step up and help the community around us as much as possible. Jiu-Jitsu provides the tools and resources to help women not become victims of sexual violence.


Another way the GBF program serves the community is by prioritizing safety for women in Jiu-Jitsu. Educating instructors on best practices for keeping all students safe, and particularly starting to address with students how to handle rolling with smaller opponents, is a key component of keeping women safe.
The goal should be to keep the students safe and minimize injuries so they may train another day. This is accomplished by focusing on communication between partners, strategies in picking partners, and teaching skills to students that focus their attention on using the technique over strength and weight when necessary
.


What is the scope and goal of this women's program?
The GBF Program has been created to help increase the number of women training at Gracie Barra. It was designed to meet the specific learning needs of women who want to start Jiu-Jitsu. As such, it builds on the structure of the GB1 program but incorporates several adaptations and specific techniques designed to develop women physically, mentally, and technically to be prepared to join the GB1 class after 8-weeks of training at GBF.

Ultimately, GBF creates the opportunity for women to create a strong community within the school so they can support each other while training in a safe environment that honors their unique woman strengths and needs.
We are excited to roll out GBF next week as part of the
ICP 2023
and look forward to many women in our communities benefiting from this introduction into the art we all love so much.

Happy training!


Blog Written by Dawn Korsen, a Gracie Barra Brown Belt
Episode 2!
Creating a Culture of Safety in a Jiu-Jitsu School