Designed to Bring Us Together - A History
Gracie Barra Online is an entity envisioned initially by Master Carlos in the early 2000s when Gracie Barra was the first Jiu-Jitsu school to have a .com address. The graciebarra.com web address had the purpose of providing a place where the global GB community could connect and receive important information, which is still the case today. 
Fast forward a decade and a half to 2019, when the new entity online.graciebarra.com was founded by Master Carlos Gracie Jr.. The goal of this new entity was to lead Gracie Barra's efforts to adopt digital technologies that can help us advance on the mission of bringing Jiu-Jitsu for Everyone.
GB Online became the glue that held us all together during the global pandemic when attending a class in person was not an option. It kept Gracie Barra connected as the world opened back up at varying rates, allowing us to continue to practice Jiu-Jitsu at the level each person was comfortable with.  
GB Online was developed as an extension of GracieBarra.com in the digital learning world. Students can use e-learning to enhance their real-world training with their virtual training through video learning courses like GB1, GB2, and GB3 digital curriculums. This evolution has and will continue to focus on bringing us all together as a global jiu-jitsu team.
From Website to Entity: How Did This All Happen?


Master Carlos Gracie Jr. understood very early that the internet would represent an enormous opportunity for Jiu-Jitsu and Gracie Barra. Those who are close recall him referring to online instructionals and live streaming of Jiu-Jitsu matches way before the advent of YouTube, PayPerView, streaming services, or Facebook.
Gracie Barra has been an early adopter of many emerging digital technologies. The Gracie Barra Wear online store and the online training platform Gracie Barra Institute for our Instructor Certification Program are two examples. Our presence on social media platforms such as Facebook and Instagram represents another strong indication of how digitally connected the Gracie Barra global community has become. 
Carlos' vision of the opportunities through digital technologies was ingrained in many leaders' minds within the organization. Yet, a missing component was still a home for the GB global community. We lacked one central hub that could bring all of us together, broadening and deepening the experience and the meaning of being part of Gracie Barra.
GB Online has emerged to fill this void and become the central hub for the GB global community. A place where every single member of Gracie Barra can go to expand on the experience we have at our home schools.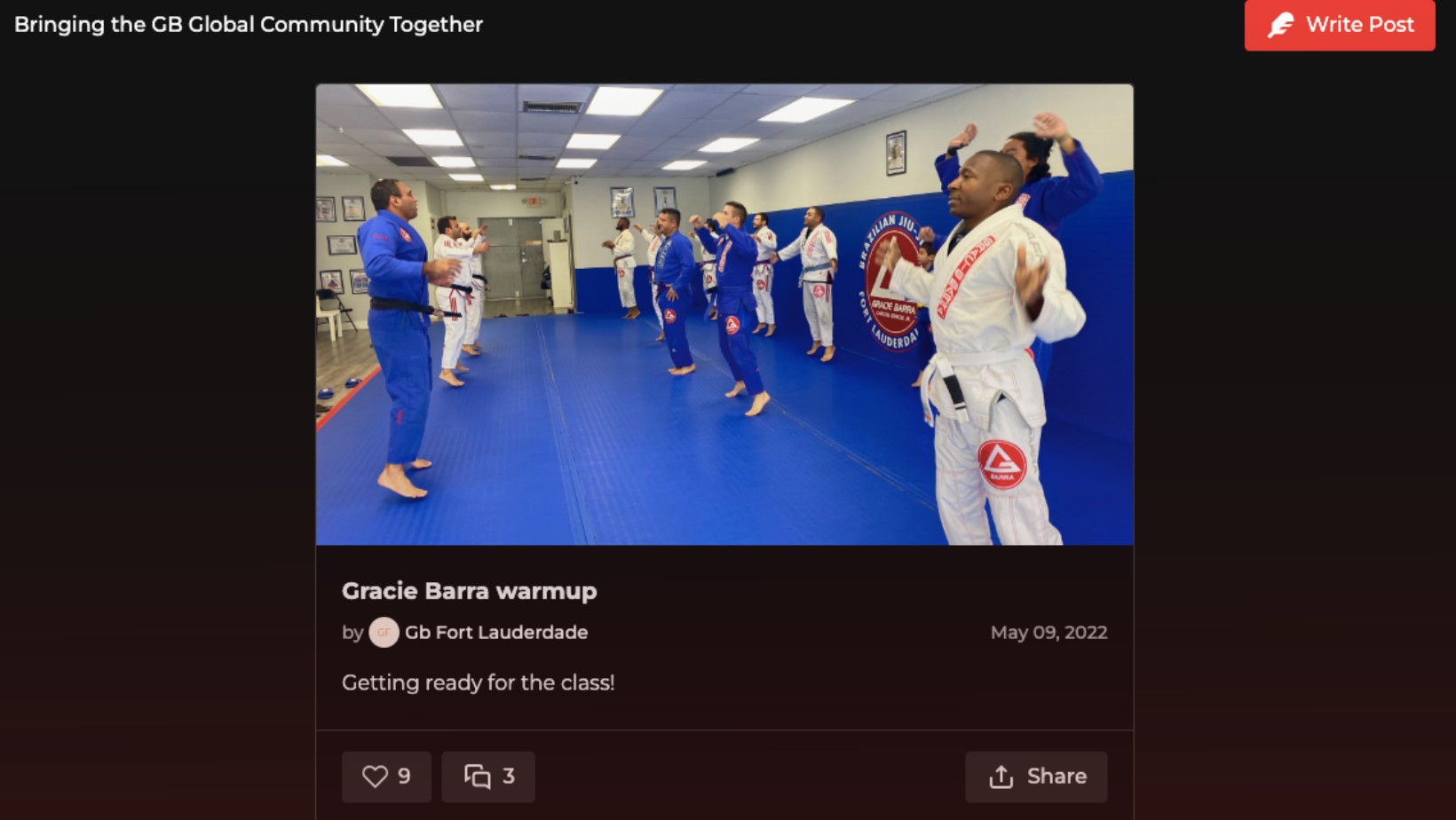 GB Online has become an augmentation to the learning experience in our schools. A place you can go to connect with Master Carlos Gracie Jr. and fellow GB team members from around the world. Here, we can continue our education on the techniques we learn in class (by gaining access to the GB1 Online with Master Carlos Gracie Jr. or the GB2 and GB3 curriculums as examples). We can even get inspired by the Gracie Barra philosophy by watching free content and participating in live online events.
Taking the Global Connection to the Next Level
We recently added a new component to GB Online, the Community forum. This feature allows individuals to connect with each other from around the globe on one messaging platform to have discussions, get questions answered, and share important milestones on their journey.  
Imagine a Jiu-Jitsu-minded messaging center where you can reach out to people like you. Where people on your same journey, who love Jiu-Jitsu the way you do and are excited to celebrate and support you when you want it. That is the goal behind our Community feature on GB Online. This brings the Brotherhood that we all feel to our fingertips on both computers and mobile devices.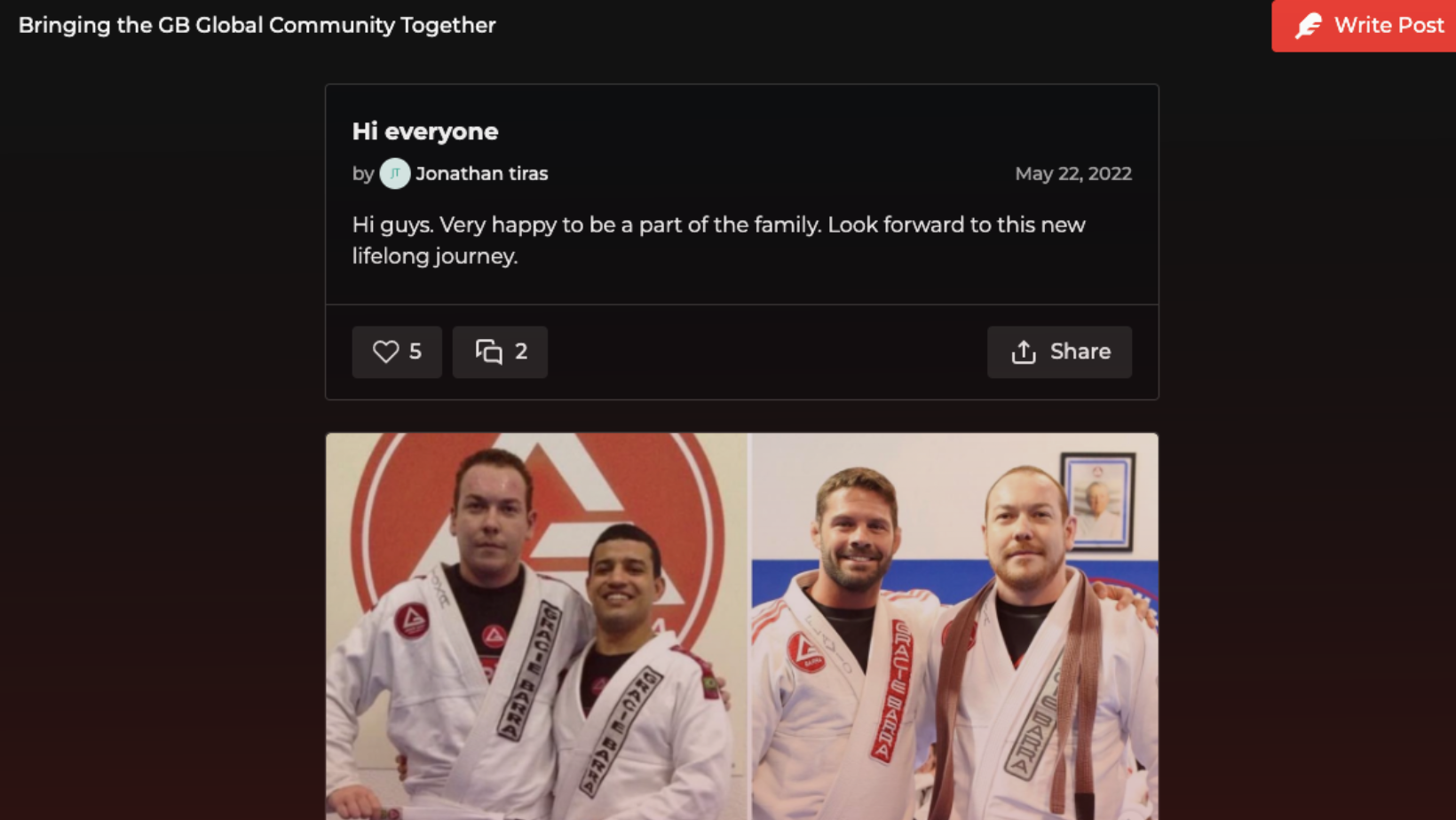 GB Online and our Core Values
GB Online has emerged at the center stage of Gracie Barra's global development because it ties so well into our three core values of brotherhood, integrity, and development.
GB Online Strengthening the Brotherhood: By becoming the home, the central hub of our global community, GB Online allows our team members to connect with each other and Gracie Barra as a whole. It elevates the feeling of belonging to a team to a whole new level, creating the foundation for deeper and broader connections and empowering each individual team member to learn and influence more people.
GB Online Promoting Integrity: The more globally connected we are, the easier the flow of communication becomes. One of the greatest challenges we deal with within Gracie Barra is keeping individual team members informed of ever-evolving standards. GB Online is our communication hub, allowing us to broadcast information like never before while at the same time giving us the power to collect feedback for continuous improvement. It is the smart network in its best form, empowering each of us to act as guardians of the Red Shield.
GB Online Accelerating Development: A globally connected community empowered to protect our team and each other with access to guidance and support is destined to thrive. The online instructionals released by GB Online complement the students' learning experiences, creating a competitive advantage of a Gracie Barra school against any other Jiu-Jitsu academy. By strengthening our schools' competitive position in the marketplace, GB Online is nurturing the foundation upon which the whole organization is built.
GB Online and You
As you better understand the pivotal role GB Online will play in the future of Gracie Barra, it is important to emphasize one of the core components of this strategy.
GB Online is NOT designed to replace the work of GB schools or GB instructors. GB Online is designed to complement and elevate the work done by each one of our schools, deepening and broadening the experience of being Gracie Barra. 
There is an underlying premise in everything we do at Gracie Barra. Every initiative has to be mutually beneficial for everyone involved. Everything at the level of the Gracie Barra entities is done to serve the interest of Gracie Barra schools, instructors, and students - to empower us. The clothing and apparel, the uniforms, the rules and regulations, the Gracie Barra curriculums, the ICP, and the Gracie Barra events allow each of our schools to thrive. It is no different with GB Online and everything it brings to the table. 
Our greatest achievement yet is our ability to connect all 900+ schools around the globe on a single synchronized platform. On jiu-jitsu platform where more than 100,000 students around the world can be learning the same techniques from the same instructors and using the Community forum messaging feature to network with like-minded GB Family members. We are so excited for you to take advantage of all Gracie Barra Online offers. Please do!
Blog Written by Flavio Almeida, a Gracie Barra 5th degree Black Belt, and Dawn Korsen, a Gracie Barra Brown Belt
Episode 2!
Creating a Culture of Safety in a Jiu-Jitsu School